This I Believe is an international organization engaging people in writing and sharing essays describing the core values that guide their daily lives. Over 125,000 of these essays, written by people from all walks of life, have been archived here on our website, heard on public radio, chronicled through our books, and featured in weekly podcasts. The project is based on the popular 1950s radio series of the same name hosted by Edward R. Murrow.
Singing
An old proverb says those who wish to sing always find a song. Whether it's a quiet lullaby whispered to an ill child, or a rousing oratorio performed with a full chorus, there is an uplifting power to the human voice in song.
Click here
to read the beliefs singing has inspired in these essayists.
Shop on Amazon and Support This I Believe!
This I Believe receives up to 10% of every purchase you make on Amazon through this link. So do all your everyday shopping here and help support This I Believe!
Top 100 Essays USB Drive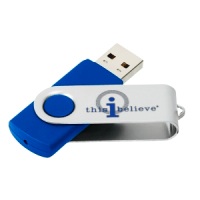 This USB drive contains 100 of the top This I Believe audio broadcasts of the last ten years, plus some favorites from the 1950s series. It can be loaded to your computer, your mobile device, or plugged straight into your car. Perfect for personal or classroom use!
Click here to learn more.
Sign up for our free, weekly podcast of featured essays. You can download recent episodes individually, or subscribe to automatically receive each podcast. Learn more.
Bela Fleck
-
Nashville, Tennessee
As heard on Morning Edition,

September 25, 2006
Musician Bela Fleck has gained critical acclaim for moving the banjo from its traditional roots into jazz and classical genres. He believes figuring out how to do things his own may made that possible.
Click here for the full essay...
Recently Featured Essays