This I Believe is an international organization engaging people in writing and sharing essays describing the core values that guide their daily lives. Over 125,000 of these essays, written by people from all walks of life, have been archived here on our website, heard on public radio, chronicled through our books, and featured in weekly podcasts. The project is based on the popular 1950s radio series of the same name hosted by Edward R. Murrow.
Listening
Some say the secret to being a good friend is to be a good listener. But beyond friendship, being a good listener is essential in other relationships, both personal and professional. In honor of Listening Awareness Month,
listen carefully
to what these essayists have to say about being a good listener.
Shop on Amazon and Support This I Believe!
This I Believe receives up to 10% of every purchase you make on Amazon through this link. So do all your shopping here and help support This I Believe!
Top 100 Essays USB Drive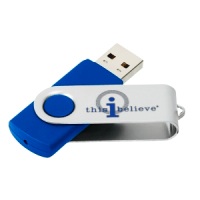 This USB drive contains 100 of the top This I Believe audio broadcasts of the last ten years, plus some favorites from the 1950s series. It can be loaded to your computer, your mobile device, or plugged straight into your car. Perfect for personal or classroom use!
Click here to learn more.
Helen Keller
-
Easton, Connecticut
As heard on The Bob Edwards Show,

June 5, 2009
Helen Keller learned to communicate through the eyes and ears of others after a fever left her deaf and blind as an infant. The author, activist and lecturer discusses her vision of faith and how it gives her hope for the future of mankind.
Click here for the full essay...
Recently Featured Essays