This I Believe is an international organization engaging people in writing and sharing essays describing the core values that guide their daily lives. Over 125,000 of these essays, written by people from all walks of life, have been archived here on our website, heard on public radio, chronicled through our books, and featured in weekly podcasts. The project is based on the popular 1950s radio series of the same name hosted by Edward R. Murrow.
Lost and Found
It was J.R.R. Tolkein who wrote "Not all those who wander are lost." And we might add that not all those who are lost need to be found. For some, getting lost is just an unexpected opportunity for something new to come along.
Click here
to find what these essayists believe about getting lost.
Shop on Amazon and Support This I Believe!
This I Believe receives up to 10% of every purchase you make on Amazon through this link. So do all your shopping here and help support This I Believe!
Top 100 Essays USB Drive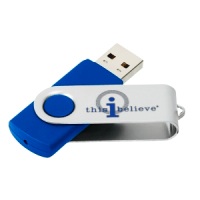 This USB drive contains 100 of the top This I Believe audio broadcasts of the last ten years, plus some favorites from the 1950s series. It can be loaded to your computer, your mobile device, or plugged straight into your car. Perfect for personal or classroom use!
Click here to learn more.
Scott Saalman
-
Jasper, Indiana
As heard on The Bob Edwards Show,

October 12, 2012
Scott Saalman, of Jasper, Indiana, learned much about love from observing his parents' daily kiss goodbye.
Click here for the full essay...
Recently Featured Essays